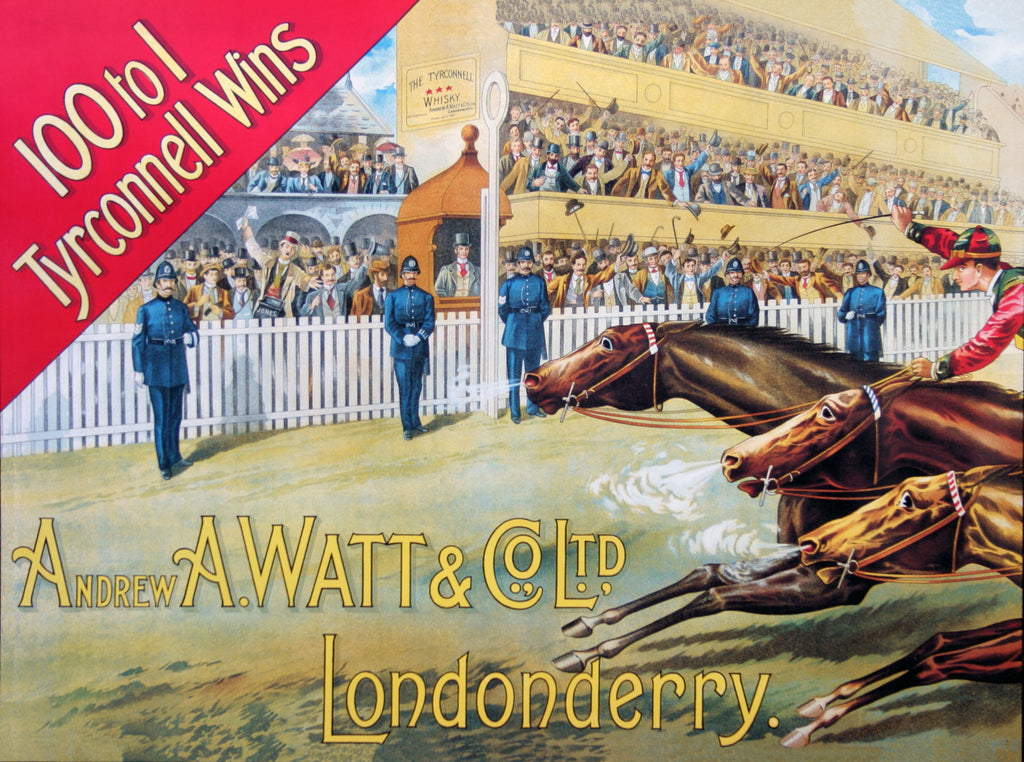 Tyrconnell Whiskey Poster
£45.00
This exciting poster has been faithfully reproduced from original and rare 1st edition prints. This poster is approximately 24" x 18" (60cms x 45cms) and has been produced in Ireland on durable high quality 170gsm Art paper.

Price quoted does not include shipping. Usually despatched within 2 working days.

The story behind the Tyrconnell whiskey poster has all the ingredients of an epic Irish period drama. There are connections to ancient Irish kings, a legendary 19th century race horse, prohibition in the USA, and the rise and fall of Donegal business tycoon Andrew Alexander Watt. And of course it's all tied up with the historic city of Derry, also known as Londonderry in the North West of Ireland.

The original Irish language version of Tyrconnell is 'Tir Chonaill' which comes from 'Tir' meaning 'Land of' and 'Chonaill' which was the name of a 5th century High King of the North West of Ireland, son of 'Niall of the Nine Hostages'.

In his book Derry: Heroes, Villains and Ghosts the Derry historian Ken McCormack charts the history of Watt's distillery with the rise and fall of a world famous whiskey brand and its owner, Andrew Alexander Watt.

In 1876 Andrew Alexander Watt owner of Watt's Distillery in the Bogside area of Derry created a new whiskey which he called Tyrconnell Irish Whiskey. Watt named the whiskey after his famous Irish racehorse which won the 'National Produce Stakes', the classic Irish race of the era. Tyrconnell was triumphant at the incredible odds of 100 to 1. This magnificent achievement was celebrated by the Watt's Distillery family with the creation of the special Tyrconnell Irish Whiskey label. Andrew Alexander Watt commissioned the design of the Tyrconnell Irish whiskey poster to capture forever the excitement of Tyrconnell's famous racing victory. The poster that you can buy here was faithfully reproduced from one of those 19th Century originals.

In the late 19th and early 20th centuries Tyrconnell Whiskey was one of the biggest selling whiskey brands in the USA. 'Tyrconnell', 'Favourite' and 'Innishowen' were three of the major brands that Watt's distillery developed. Each of these brands enjoyed great success in the export sector. Sales in the USA, Canada, West Indies, Australia, Nigeria and England put Derry on the commercial map as never before.

Originally from county Donegal the Watt family came to Derry in 1762. In 1839 David Watt (father of Andrew Alexander Watt) secured full ownership of the Abbey Street distillery in Derry. An expansion programme was undertaken to make Abbey Street distillery the biggest in Ireland and Britain.

And it did! By 1887 Abbey Street distillery had the capacity to produce two million gallons of whiskey a year.

Water from the surrounding Derry hills was used in the distillery and stored in reservoirs on site. Enormous four-storey warehouses contained: 2,000 tons of barley and wheat; 1,000 tons of maize; and 1,600 tons of maize, oats and barley. Malakoff kilns dried 30 tons of corn every 24 hours. In the two malting houses 16 tons of grain was malted in a steep (50ft by 9ft) four times a week.

However just as Tyrconnell and the other whiskey brands owned by Watt's Distillery seemed ready to dominate the world for decades, a series of failed business deals and world changing events conspired to reverse the fortunes of Watt's distillery in Derry. World War 1 and the introduction of prohibition in the United States in 1920 made trading conditions very difficult. Industrial unrest grew as workers at the distillery bore the brunt of the companies changing fortunes. The end came swiftly in 1921 when Andrew Alexander Watt faced down his striking employees and closed the gates of the Abbey Street distillery forever.

Over 300 jobs were lost, including the talents of some of Ireland's finest whiskey blenders, coopers, carpenters and a host of other tradesfolk and office staff, many of whose parents and grandparents had worked for Watts for generations. Within a few years Andrew Alexander Watt died aged 75 in October 1928 in Easton Hall near Grantham at his English estate.

70 years later the Cooley distillery located in the Cooley Peninsula in County Louth Ireland acquired the old Tyrconnell brand and in 1988 they were on their way to bring the historical Irish whiskey brand back to life.
Posters are packaged in 3" x 23" (7cm x 58cm) cardboard tubes. The tube can be shipped with either 1 or 2 posters. Usually despatched from our premises within 2 working days. For delivery to Ireland, UK and Europe normally allow 3-5 working days. For delivery to USA normally allow 15-20 working days.

Click to view our postal and shipping charges »

Shipping Charge

You will see the shipping charge AFTER you enter your credit card details into Paypal.
However, your card will NOT be charged until you view and approve the shipping charge.

This is how it works:
It works in 2 steps. When checking out, you are directed to Paypal to input your card details or pay directly from your Paypal account. The price displayed will NOT include shipping. After you input your details, you will be directed back to www.oldirishposters.com - step 2 - to view the total price INCLUDING shipping charge and pay for the product(s).
Shoppers also viewed these posters