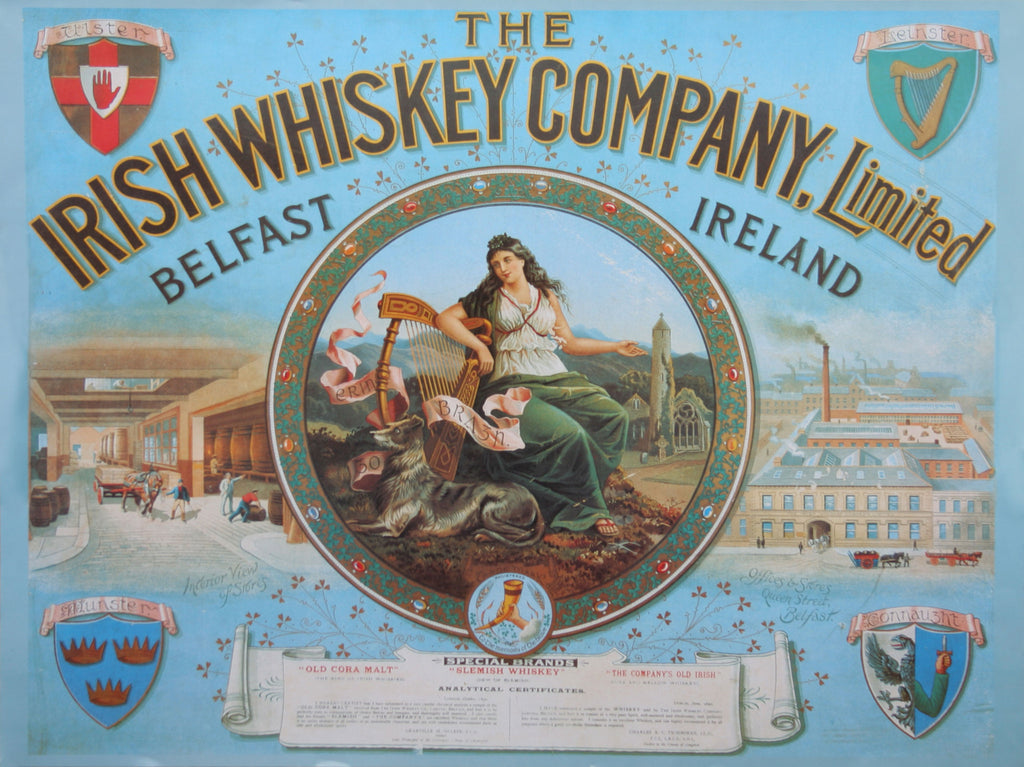 The Irish Whiskey Company Advertisement Poster
$46.00
This richly coloured poster promotes The Irish Whiskey Company, one of many distilleries operating in the Belfast area in the late 1800's & early 1900's. It features the company's special brands, Old Cora Malt (The king of whiskies), Slemish Whiskey (Dew of Slemish) and The Company's Old Irish (Pure and mellow whiskey). It also features, in the four corners, the flags of the 4 provinces of Ireland - Ulster, Munster, Leinster and Connaught.

The poster has been faithfully reproduced from an original and rare 1st edition print. It is approximately 24" x 18" (60cms x 45cms) and has been produced in Ireland on durable high quality 170gsm Art paper.

Price quoted does not include shipping. Usually despatched within 2 working days. We ship to USA, Canada, Europe and Australia.

Posters are packaged in 3" x 23" (7cm x 58cm) cardboard tubes. The tube can be shipped with either 1 or 2 posters. Usually despatched from our premises within 2 working days. For delivery to Ireland, UK and Europe normally allow 3-5 working days. For delivery to USA normally allow 15-20 working days.

Click to view our postal and shipping charges »

Shipping Charge

You will see the shipping charge AFTER you enter your credit card details into Paypal.
However, your card will NOT be charged until you view and approve the shipping charge.

This is how it works:
It works in 2 steps. When checking out, you are directed to Paypal to input your card details or pay directly from your Paypal account. The price displayed will NOT include shipping. After you input your details, you will be directed back to www.oldirishposters.com - step 2 - to view the total price INCLUDING shipping charge and pay for the product(s).
Shoppers also viewed these posters